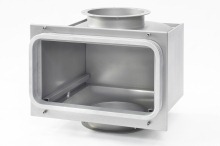 Description
The filter system can be used single or in combination with additional housings e.g. for pre-filter or sorption filter. For filtration of higher air flows some filter housings can be combined to large filter systems of any size.
The connection is realized by a gastight duct system at both the top and bottom side of the housing. This allows the installation of one or more filter housings in circular duct systems one after the other.
Both direction of airflow – "top-down" or "bottom-up" can be chosen.
Installation resp. fixing is done by either:

plugging on static fixed ducts
attaching to wall brackets (available on request)
positioning on floor supports (available on request)

The duct connection is designed as a machine-lip flange for pull-ring connection, e. g.
Jacob system, DN 300.
Also a welded flange according EN 12 220, DN 300, is available as an option.
Productfoto's